col1 is switched to invisible
Berlin apartment - Berlin Apartment
MOWITANIA has all kinds of accommodation for your visit to the German capital on offer - from serviced holiday rentals to budget guest rooms either in the most central location or right in the heart of a friendly and unique neighborhood – with MOWITANIA it is easy and quick to find and book one of more than 1000 accommodations and private rooms.

In 2020 we have been brokering property and holiday homes, business apartments and guest rooms in Berlin for 18 years.
We conveniently connect guests with hosts and are available to customers both by email and by phone.
We offer comfortable as well as spacious accommodation for one to 10 people or any large number really – fully equipped with kitchen, bathroom, one bedroom, two bedrooms or more, and oftentimes a convertible sofa bed in the living room sleeps another one or two guests.
If you are looking to book a holiday condo with a quiet garden and terrace or generally a larger place, you want to shift your perspective away from Berlin-Mitte and the city centre to the less centrally located districts - Berlin\\\\\\\\\\\\\\\\\\\\\\\\\\\\\\\\\\\\\\\\\\\\\\\\\\\\\\\\\\\\\\\\\\\\\\\\\\\\\\\\\\\\\\\\\\\\\\\\\\\\\\\\\\\\\\\\\\\\\\\\\\\\\\\\\\\\\\\\\\\\\\\\\\\\\\\\\\\\\\\\\\\\\\\\\\\\\\\\\\\\\\\\\\\\\\\\\\\\\\\\\\\\\\\\\\\\\\\\\\\\\\\\\\\\\\\\\\\\\\\\\\\\\\\\\\\\\\\\\\\\\\\\\\\\\\\\\\\\\\\\\\\\\\\\\\\\\\\\\\\\\\\\\\\\\\\\\\\\\\\\\\\\\\\\\\\\\\\\\\\\\\\\\\\\\\\\\\\\\\\\\\\\\\\\\\\\\\\\\\\\\\\\\\\\\\\\\\\\\\\\\\\\\\\\\\\\\\\\\\\\\\\\\\\\\\\\\\\\\\\\\\\\\\\\\\\\\\\\\\\\\\\\\\\\\\\\\\\\\\\\\\\\\\\\\\\\\\\\\\\\\\\\\\\\\\\\\\\\\\\\\\\\\\\\\\\\\\\\\\\\\\\\\\\\\\\\\\\\\\\\\\\\\\\\\\\\\\\\\\\\\\\\\\\\\\\\\\\\\\\\\\\\\\\\\\\\\\\\\\\\\\\\\\\\\\\\\\\\\\\\\\\\\\\\\\\\\\\\\\\\\\\\\\\\\\\\\\\\\\\\\\\\\\\\\\\\\\\\\\\\\\\\\\\\\\\\\\\\\\\\\\\\\\\\\\\\\\\\\\\\\\\\\\\\\\\\\\\\\\\\\\\\\\\\\\\\\\\\\\\\\\\\\\\\\\\\\\\\\\\\\\\\\\\\\\\\\\\\\\\\\\\\\\\\\\\\\\\\\\\\\\\\\\\\\\\\\\\\\\\\\\\\\\\\\\\\\\\\\\\\\\\\\\\\\\\\\\\\\\\\\\\\\\\\\\\\\\\\\\\\\\\\\\\\\\\\\\\\\\\\\\\\\\\\\\\\\\\\\\\\\\\\\\\\\\\\\\\\\\\\\\\\\\\\\\\\\\\\\\\\\\\\\\\\\\\\\\\\\\\\\\\\
Most recent opinions for our apartments
Apartments in Berlin
Nice Apartment in Berlin Friedrichshain - Nr. 1534
The property is located on ground floor. In the accommodation should not be smoked. Public parking is available near the house. This accommodation has a highspeed / DSL - Internet connection. This accommodation is equipped with a washing machine. The accommodation is suitable for the disabled.
Through the family-friendly establishment is this accomodation ideal for families.
The apartment is quietly situated on the ground and is continuously available.
Accommodation Berlin City Centre - Nr. 7
Beautiful and charming 1-room appartment in the historical centre of Berlin - with french bed and nice, quiet balcony with wooden chairs and flowers. With wooden floor, cable-TV, DVD-player, a good and modernly equipped kitchen and a small, but luxurious bathroom. Elevator, parking available if needed. Here you will find a quiet place, although you are in the middle of a café-, restaurant-, and shopping area.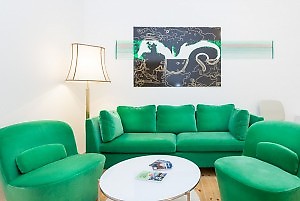 Vacation Apartment Berlin Prenzlauer Berg - Nr. 4310
Comfortable apartment in a very convenient location. The apartment is newly furnished and suitable for 6 persons. 2 double beds (160x200 cm) (180x200 cm), sofa bed (140x200 cm) and 2 single beds (90x200 cm). There is a TV in two bedrooms. The kitchen has a dining table, electric stove, refrigerator etc. The bathroom is equipped with a bathtub. The apartment is very suitable for families with its family-friendly features. Cribs, children's books and some toys are available.
Furnished Apartment Berlin Friedrichstrasse - Mitte - Nr. 3012
Apartment with separate kitchen and bathtub, calm, very light and a view over Berlin from the balcony of the 5th floor (with elevator). Sleeping room with double bed, living room with sofabed, LCD-TV, DVD, free wifi internet and radio. Fully equipped kitchen with coffee machine, toaster, kettle and oven. Bathroom with tub and shower, coin-operated laundry in the building. Central located: Brandenburg Gate, Potsdamer Platz, Jewish Museum, Checkpoint Charlie and Galery Lafayette are in walking distance. Metro station U Kochstrasse is in front of the house. By metro you will reach popular Oranienstrasse in a few minutes.
complete Apartment berlin mitte - 7 person - Nr. 2989
The complete Apartment is offering WLAN DSL. The parking is for free, just ask for a parking permission at your arrival. The place "Hackische Markt" is one of the most centralized cultural locations in Berlin with several high quality bars, clubs, restaurants and shops. From the apartment you will perfectly reach every sight seeing location (Brandenburg Gate, Checkpoint Charly, etc.) by foot or within some minutes by metro or bus. The scene districts Kreuzberg, Prenzlauer Berg and Friedrichshain ar all three reachabke within 5-10 minutes by Metro. The Apartment is perfectly located for a short trip with friends and family to Berlin.

recommendations for apartments and accommodations

apartment for 4 persons at the Viktoriapark - No. 995
The apartment is centrally located and with good transport connections. Busses and nightbusses take you to Kurfürstendamm and Tauentzienstraße (shopping mile) or to Berlin's happening districts Kreuzberg and Friedrichshain. Suburban and subway stations with direct connections to Potsdamer Platz, the Mitte district with the 'Museum Island' and Hackeschen Markt, can be reached on foot.